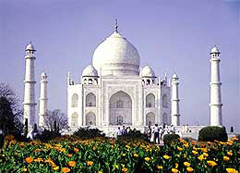 In 1612, Arjumand Banu became the wife of Shah Jahan, which was the beginning of one of the most famous love stories of all time. Arjamad was known as Mumtaz Mahal or beloved of the palace.
Mumtaz and Jahan were inseparable and together they had 14 children. They were very popular with the people and were renowned for their compassion and generosity. In 1631 however, Mumtaz died and the devastated Shah swore that her memory would live on forever. His grief was so great that he is said to have gone grey overnight.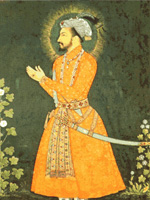 The Empress' remains were moved to Akbarabad where a temporary dome was erected over her, whilst a more appropriate monument was being built. The result of twenty years labour on the part of 20,000 people and 1000 elephants was the Taj Mahal — a tomb famous for its architectural splendour and the love story that inspired its creation.
Standing on the bank of the River Yamuna, the Taj is almost 200ft in height. It rests on a large sandstone platform and four minarets flank the 85ft high white marble dome. Set at the end of a large water course and surrounded by lavish gardens, the Taj is mirrored in the surrounding water, its marble, inset with precious gems and stones, reflecting the sun throughout the day.
Shah Jahan was later deposed by his son and was imprisoned in the Red Fort of Agra, across the river from the monument. He is said to have spent hours each day staring across at the resting-place of his beloved second wife. He had planned to build a matching monument in black marble for his inevitable death, but did not live long enough to begin the building process. He is buried alongside Mumtaz, as befits such a tragic love story.