Competition Closed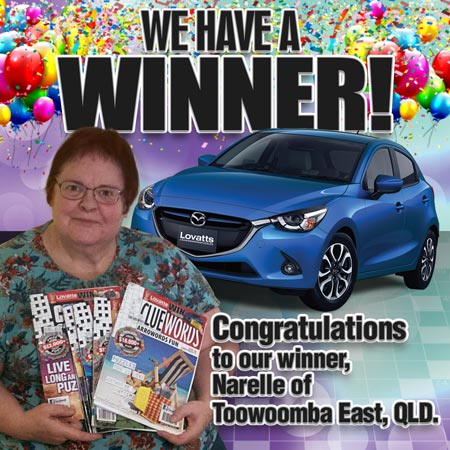 Congratulations to the lucky winner of our latest competition! Narelle from Toowoomba East, QLD was recently drawn as the winner of a brand-new Mazda 2! We chatted with Narelle to find out more about her life, her love of Lovatts puzzles and how she feels to have won a brand new car.
Tell us a little bit about yourself…
I've been a rural and remote nurse for the last 17 years, so I've been around the back of NSW, Queensland and the Northern Territory. Working with people in primary health, preventative medicine and nursing have been the big things in my life. I love helping people – mothers, babies and all sorts of people. I've found it terribly fulfilling. I've since retired and am disabled. I love mental stimulation and the crossword puzzles do it for me because Christine can ask some really tricky questions!
Congratulations on winning a new Mazda! Previous to winning, what car have you been driving around?
I have a Subaru Forester that's 17 years old! I've been going to the bush in it because it's all-wheel drive, but now I'm a town person so I needed a town car. I only get around here in Toowoomba. The lovely man brought it over and it's a top little car!
Have you ever won anything else before?
I have! I won a thousand-dollar grocery prize a few years ago and I've won a book in raffle, but the car has outdone everything!
What are your favourite Lovatts puzzles to do?
Christine has the one called 'The Stinker' and I like to beat her! She makes me very competitive and I think, "You're not getting one up on me!" I like the ones where you have to guess the celebrities, because then I can go and look up more about them.
Where and when do you usually puzzle?
I usually puzzle at home or go to a café and have a coffee and do my puzzles.
Do you have any plans for a road trip in your new car?
It's actually my sister's birthday the first week of December and she's having a party, so I'm thinking of driving up to town and taking my auntie with me and showing off my new car.
Any final things you would like to add?
I'm ever so grateful to have won this car. When I was working in Darwin, I had a really nasty fall and broke my leg and now I'm disabled and had to retire. I can get in and out of the car and I'm very happy.