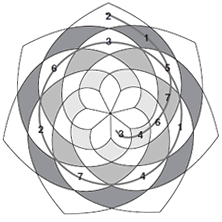 Download a free sample of Lotus Logic, the new grid on the block, which features monthly in Lovatts Super Sudoku magazine.
To solve these puzzles, apply the same principles of logic you'd use for Sudoku, but in a roundabout way (check out the grid – you'll see what we mean!).
Lotus Logic is pure entertainment with a tantalising twist. Try it out for yourself. And please let us know what you think.